Our Sleep Programs have been created by experts in the field of pediatric sleep and are used by medical professionals, and parents, in over 80 countries.
Sleep is guaranteed.
We're so confident our Sleep Programs will improve your little one's sleep we offer a 90 day money back guarantee.
Let us help you and your family.
We know how difficult it can be when your baby isn't sleeping and how that can have an impact on the whole family, including your mental health and your relationship with your partner.
We believe sleep should not be a luxury reserved for the lucky few, and so we created our Sleep Programs with evidence-based research, with trial and error, with love and with compassion to help you resolve any sleep challenge you're facing or may face in the future.
There is no one-size-fits-all and we understand and respect that every family is different. The beauty of our Sleep Programs is that you can use bits of the information, choosing what is applicable to you and your situation, and take from the Program what you need. Or, you can use all of it to-the-letter. In this way, we've created a customized experience for you that can be tailored to your baby and your parenting style.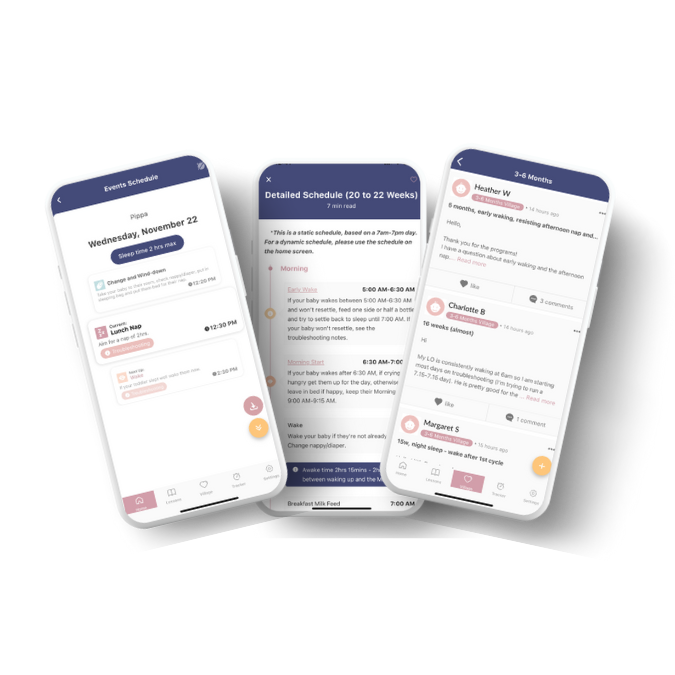 Our world-class Sleep Programs are accessed through the Little Ones Baby Sleep app, which has some incredible features to make it easy for you to improve your baby or toddler's sleep in no time at all:
Customized Daily Schedule

With a daily schedule customized for your little one, you'll know exactly when naps and feeds should happen, ensuring your baby or toddler's day is perfectly aligned to lead to excellent night-time settling and sleep.

A Library of Sleep Resources

Learn everything you need to know about your little one's sleep from the most up-to-date information available. Our Sleep Lessons guide you through every age and stage.

Expert Troubleshooting

If your baby wakes early, or refuses to nap, we're there for you! Our detailed troubleshooting will get your day, or night, back on track no matter what.

Certified Sleep Consultants

If you need a bit more help, our team of experienced Sleep Consultants is at your fingertips day and night to problem-solve even the toughest sleep challenge with you.
Choose your Sleep Program
75% of our customers report seeing improvements to their little ones' sleep in under a week.
Our goal is to empower parents to make positive change to their baby or toddlers' sleep.
I can't speak more highly of this program and have recommended it to all my friends with babies or expecting! I wish I had it from the get go as there's so much useful info that would've helped me in the newborn stage. I had a 6 month baby that was still fed to sleep and waking 3-4 times a night. I didn't want a program that involved lots of crying therefore this was the right fit for us. Mila was sleeping thru the night within 3 days of starting and with the advice in the program I stopped the need of feeding to sleep. Now anyone can put her to sleep and our whole house is harmonious again. Thank you soo much, we are forever grateful.

Julie

Game Changer! I LOVE this app and this company. We used it with my first baby. He's been sleeping through the night for 6 months with no problems (is now almost 3) and we're now using it for my second. The troubleshooting notes are extensive and spot on. I tell anyone who will listen about thus Sleep program. Good sleep is the foundation of everything! well worth every cent.

Kelly

Miracle workers! We went from 7 months of sleepless nights, everyone in the house being niggly and teary, and frustration with family and friends trying to convince us that letting our boy "cry it out" was the only option. We are now all sleeping (no tears required!) but I did literally cry with joy the first morning I woke up and realized it was morning!!! He is so happy to go to bed now - I no longer have to sit and spend hours trying to settle him, we literally have a cuddle and kiss goodnight, say sleepy time and close the door. And me and his Daddy have our evenings together again!

Jennifer